Posted by Esther Roberts on 15th Oct 2021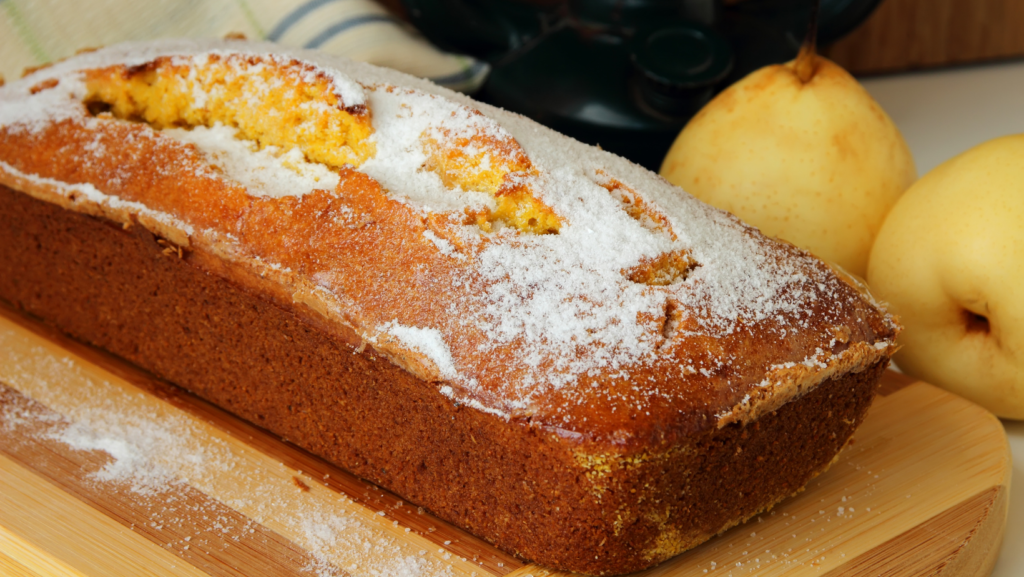 Sticky Toffee Pear Pudding
As the weather gets cooler, looking towards the freezer is no longer a desirable desert option! Now is the time for crumbles, puddings and warm custard on an autumn evening. The new star of your dinner time is our Sticky Toffee Pear Pudding, a deliciously sweet treat that you won't want to share!
Servings: 8 – 10 slices
Preparation time: 25 minutes
Cooking time: 40 minutes
You will need:
Peeler
Mixing bowl
Medium pot
20 x 30cm Baking tin
Ingredients
For poaching:
8 small pears
200g caster sugar
2 cinnamon sticks
1 star anise
2 cloves
Zest of lemon
For sponge:
180g self-raising flour
125ml milk
2 tsp vanilla extract
100g soft brown sugar
100g butter
1 tsp cinnamon
2 tsp golden syrup
2 large eggs
Instructions:
1. Poach pears – Peel and cut the bottom off each of your pears and discard the pips and scraps. In a pot boil 600ml of water and add the sugar, cinnamon sticks, star anise, cloves and lemon zest. Add the pears once the mixture has reached boiling point. Simmer until the sugar has dissolved and cover for 15 minutes or until pears are soft. Save the liquid!
2 . Make the sponge – Beat together the butter and sugar until they form a soft paste. First add the rest of your wet ingredients (milk, vanilla extract, golden syrup, eggs). Once incorporated add the dry ingredients (flour, cinnamon) and mix until smooth.
3. Add the pears – This part is up to you! You can either add your pears to the mixture and then pour into the pan. Or, pour your batter first and then add the pears if you want to make your pudding look fancy.
4. Bake the pudding – Bake for 35-40 mins at gas mark 4 until the cake is cooked through. Use a skewer to check if the centre is cooked, if it comes out wet then continue to bake for another 10 minutes.
5. Make your sauce – While your cake cools, bring the poaching liquid to a boil and then simmer until reduced to a glossy syrup.
6. Enjoy – You can either cover the sponge with your delicious sauce or save it for later for serving alongside custard for a warm, autumnal treat.