Posted by Shannen Godwin on 17th Jun 2021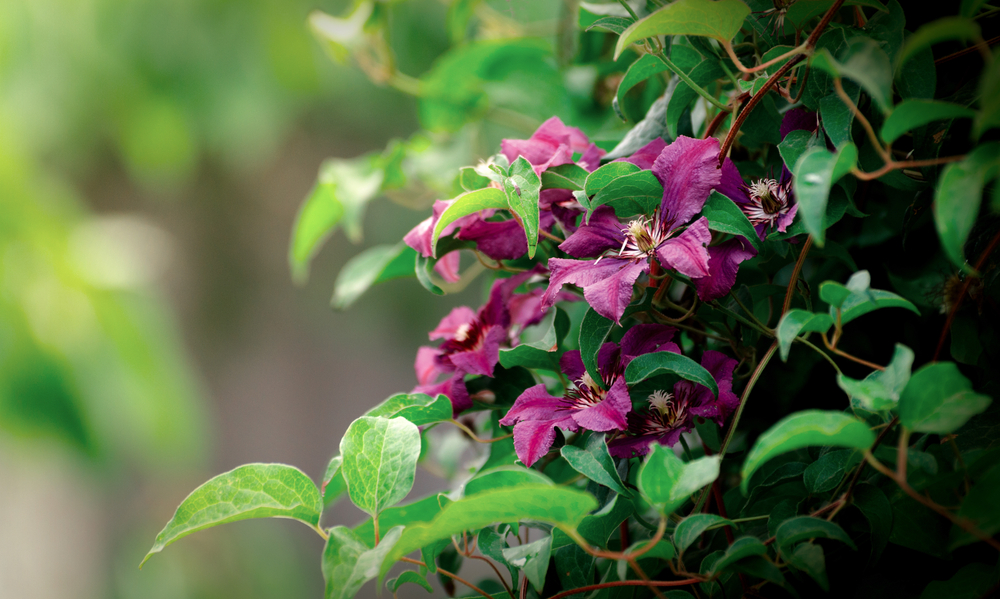 Loved for their long lasting presence and rich colours, is it any wonder that Clematis plants are one of the most popular climbers on the market. To ensure healthy growth and encourage more flowers, pruning is an important part of Clematis care.
When it comes to pruning it can be hard to know where to start, so we've compiled an easy gardening guide to show you when and how to prune Clematis plants.
When does your Clematis flower?
The key to knowing when to prune your Clematis is knowing when your plant blooms. If you're unsure, wait until your plant blooms and then match your Clematis to the correct flowering season.
When to Prune Clematis?
For young Clematis plants, give a hard pruning to one or two of the healthy base stems in the first spring after planting.
Here's our seasonal pruning guide for established plants:
Winter/Spring Flowering:
Prune the vines right after they finish flowering in spring. The new stems that grow will then have enough time to make flower buds for the following year.
Winter/Spring flowering Clematis plants:
Clematis 'Jingle Bells'
Clematis 'Freckles'
Clematis 'Winter Beauty'
Spring/Summer Flowering:
Thin out and disentangle stems before growth begins in late winter or early spring. In late spring or early summer, go over the plant again after the earliest flowers fade and severely shorten the stems that produced flowers.
Spring/Summer flowering Clematis plants:
Clematis 'Elizabeth'
Clematis 'armandii'
Clematis 'Apple Blossom'
Summer/Autumn Flowering:
Late Summer/Autumn flowering Clematis need a hard pruning annually. Cut back all old stems to the first pair of healthy buds (around 15-30cm above ground level). If left without any pruning, these Clematis will become top-heavy and produce very few flowers.
Summer/Autumn flowering Clematis:
Clematis 'Sieboldii'
Clematis 'Aromatica'
Clematis 'Madame Julia Correvon'