Posted by Amber Williams on 18th Jan 2022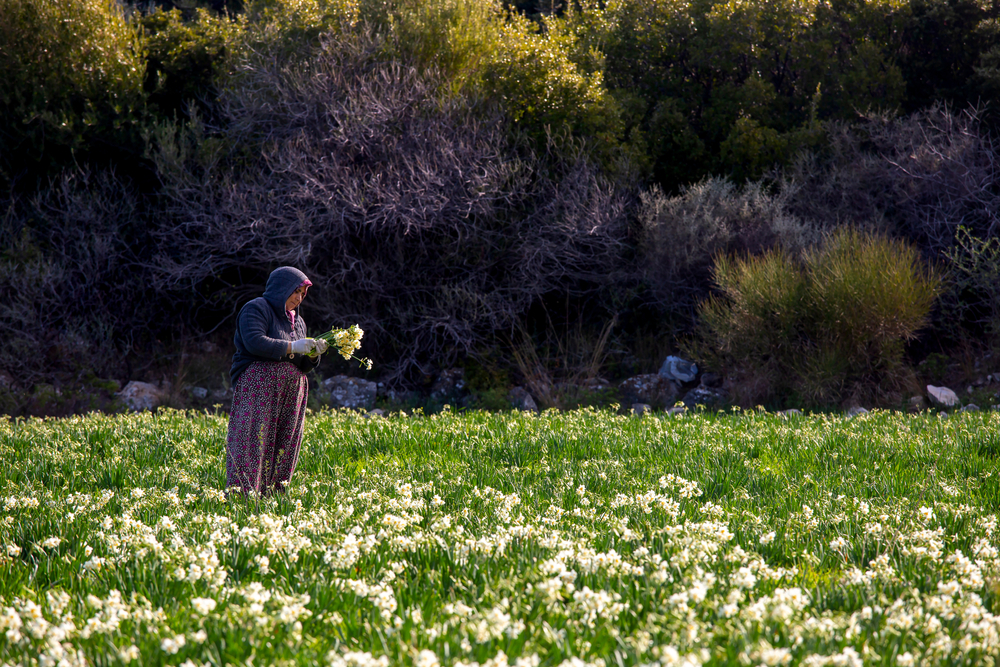 Daffodils are THE spring bloom. Their bright yellow trumpets are recognisable across the globe, and no spring display is complete without them.
As you can imagine, they have always been a staple seasonal flower. The rich daffodil's history even precedes the Romans, dating back to 300 BC. These powerful perennials can withstand harsh winters, are pest resistant, and look fabulous in any arrangement. But where did their long reign begin?
We've delved into the humble daffodil's history, opening the historical window to one of the most popular bulbous blooms in the UK.

Echo & Narcissus

Daffodils, or Narcissi, indeed have a rich history. What's most known is the Greek mythological story of 'Narcissus and Echo'.
As the legend recalls, Echo was a mountain nymph and had been recognised by the Greek gods for her natural beauty. Zeus particularly found her useful in distracting his wife, Hera, when participating in other affairs. Echo would talk to Hera for hours, giving Zeus plenty of time to escape from her watchful eye.
Eventually, Hera caught on to the Nymphs role in her husband's activities. Enraged, the goddess cursed Echo to never again have a voice of her own, only able to repeat the last words that were spoken to her.
Distraught, Echo wandered into the outskirts of ancient Boeotia, where she set eyes on the handsome Narcissus. Narcissus was considered impossibly attractive and is believed to be one among the most beautiful mortals, with a face that rivalled the likes of Hyacinthus and Adonis.
Although Narcissus was blessed with otherworldly good looks, it came at a price. A blind seer prophesied that he could only remain attractive if he stayed humble. He was told to never look upon his reflection, lest he falls into despair.
As Echo observed Narcissus, she fell deeper and deeper in love. She longed to call to him but could only wait till Narcissus spoke. He cruelly rejected Echo when she eventually emerged and ran away from her into the depths of the forest.
Eventually, Narcissus was overcome by thirst and stopped by a pond. He laid on his stomach and leaned over the edge of the water, only to be met with the eyes of the most beautiful man he had ever seen.

Overcome with emotion, Narcissus tried to kiss the reflection but was met with water. Eventually, he realised the reflection was his own and fell into a deep depression. As Echo watched over him, Narcissus began to waste away until he, eventually, felt himself fading to death. His last words were to his reflection; "Goodbye, my love!" he cried. "Goodbye, my love." Echo whimpered in return.
Nymphs searched for his body, but in its place, they found a beautiful flower. Its head was white, its trumpet orange, and henceforth it was known as the Narcissus.
Echo, distraught over the loss of her love, retreated to her mountain cave until she wasted away. Eventually, all that remained was her voice, which was doomed to repeat only the last words of whoever entered.
A European Favourite Since 300BC
The name 'Daffodil' actually comes from the Dutch phrase 'affo dyle'. Translated, this means 'that which comes early'.
Daffodils were cultivated in gardens from as early as 300 BC.
Historically, these blooms could be found in areas of Europe, North America and North Africa. This heritage makes them incredibly hardy, surviving harsh weather conditions that you'd find in the early spring months.
The first recorded mention of daffodils was written by a Greek botanist in his book famously titled 'Enquiry into Plants'.
Daffodils Were Smuggled into Britain
Throughout the daffodil's history, different cultures would share their knowledge of the seasonal bulb. In fact, Roman soldiers were the first to introduce Britain to daffodils.
They believed that the sap of the flower had healing powers. We now know that daffodil sap does the opposite of heal and can cause skin irritation.
Britain is home to just one native daffodil out of thousands of cultivars. Commonly known as the Lent Lily, this classic bloom produces thin yellow flowers that are centred around a large and in charge trumpet.
However, it wasn't until the 19th century that we started to see gardeners take advantage of the humble daffodil. The movement started in Cornwall, but the conditions were slightly too warm for the daffodil bulbs. Farmers soon realised that they had better results when bulbs were grown up north. Subsequently, daffodil farmers started to buy lands between Lincolnshire and Scotland to take advantage of the colder climates.
According to Heritage Calling, over 90% of Daffodils are grown and sold in Britain to this day.
William Wordsworth – The Daffodil Love Letter
Inspired by carpets of daffodils when strolling by Ullswater in the Lake District, William Wordsworth penned these immortal words.
For oft, when on my couch I lie
In vacant or in pensive mood,
They flash upon that inward eye
Which is the bliss of solitude;
And then my heart with pleasure fills,
And dances with the Daffodils.
The Lake District is home to carpets of native daffs. These blooms can be seen in woodlands and around lakes through the early spring months. In 2003, the Grasmere community built the St. Oswald Daffodil Garden to raise money for the church. This garden is inspired by Wordsworth's poem, and excerpts can be seen around the grounds.
Sold on the Streets of London
The early 19th century saw the start of the bloom boom. Extravagant flowers and plants were too expensive for the average person, and people profited off selling common crops that could be found in nearby parks and woodlands.
Children as young as ten years old could be found selling seasonal flowers on the streets of London to walkers-by. For many, selling flowers was their sole source of income and could only bring home around 1s 6d (one shilling and sixpence). In today's money, this is worth around £5.86. However, this wasn't enough to live on, and many went without food, water, or shelter.
Some of their favourite flowers to sell were the cheapest and most commonly found. This included daffodils, violets, pansies, and many more.
The Symbol of Spring

Even when you take the daffodil's history out of the equation, these flowers are still considered a spring favourite across the globe.
They're even described as the 'herald of spring', as they're one of the first flowers to bloom after winter.
In fact, Daffodils aren't just a spokesperson for spring. In many cultures, these seasonal blooms can represent a myriad of connotations. For example, in China, daffodils represent good fortune and positive events, which is why it's used as a symbol for Chinese New Year.
Throughout Europe's medieval period, daffodils had a more sinister interpretation. It was believed that if you gazed upon a drooping daffodil, it signified your impending death. Cheerful, right
Luckily this is no longer believed, and the humble daffodil remains a symbol of good health, fortune, and happiness.