Posted by Shannen Godwin on 17th Jun 2021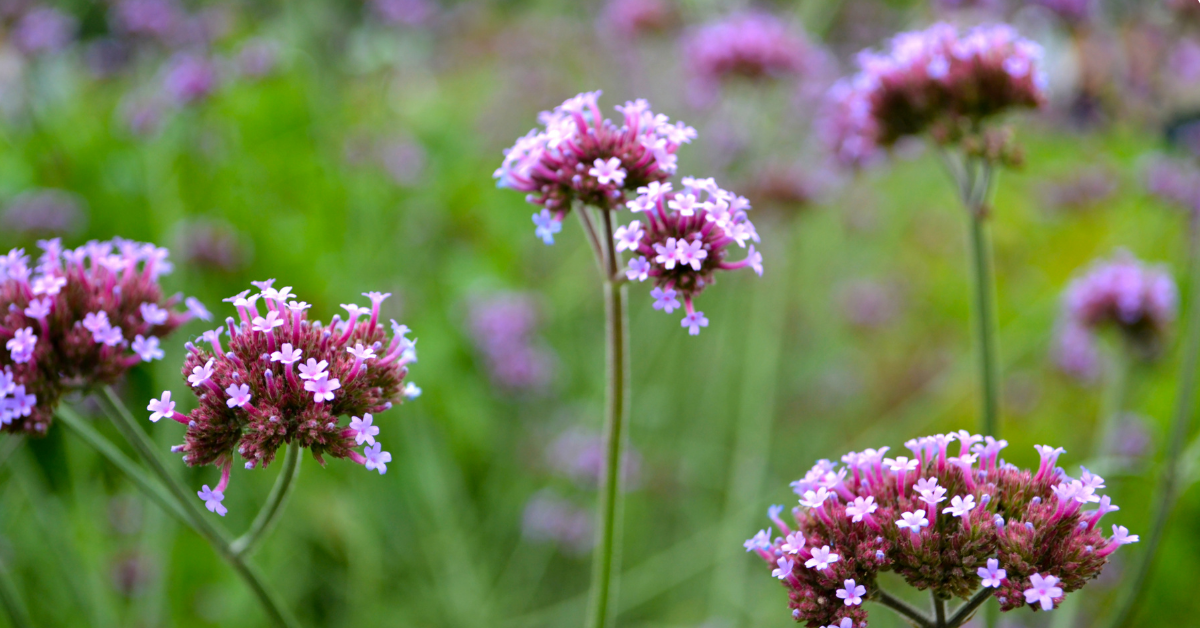 The Tatton Park Flower Show took place last week, and we sent a few members of the J Parkers team to scope out the top trends, flowers and planting companions at the 2019 show.
So let's have a look at some of the gardening styles at this year's show that you can try out in your own garden.
Popular Flowers
Here are 3 of the most popular and showcased flowers on display around the show and the show gardens.
Verbena Bonariensis were dotted around almost every show garden on display this year. Whether as a background plant for a wild border or used as a centrepiece plant with their long stems, these beautiful purple flowers were definitely in the spotlight this year. A fantastic summer border plant with good pest resistance.
One of our favourite summer flowering perennials were heavily featured this year, the Echinacea. Also known as Coneflowers, they will flower from summer through late autumn, often still in flower as late as October. They make a bright and bold addition to the modern garden, look larger than life at the back of the border, and are a great way to attract butterflies and bees to the UK garden.
The beautiful giant blooms of Alliums took a centre stage this year. Large varieties were spread all around the show, whilst smaller flowering varieties such as Allium Drumsticks and the half-spherical blooms of Allium Miami were featured in this year's show gardens. An easy to grow and versatile range of plants that can work in any garden.
Garden Trends
1. Pollinator Pals (Alliums, Achillea, Agapanthus)
Alliums, Achillea and Agapanthus were strongly featured in the show gardens at this year's show. The show had a strong theme of pollinator-friendly planting and when it comes to looking after wildlife in the garden, these varieties are well-loved by bees and other pollinators.
Agapanthus are great showy plants with exotic looking flowers, Alliums are easy to grow, stylish plants with tall stems and large pom pom heads of flowers and Achillea are a stunning flowering herbaceous perennial with each flower head containing of hundreds of long lasting, tiny flowers. So, it's easy to see how these beautiful summer contenders have been a popular choice this year.
2. Multi-layered Borders
Another big trend seen around the show gardens is creating layers of a variety of border plants. Ass seen with the brightly colours florals in the 'Let's Go Fly a Kite Garden', the subtle contrasting tones in 'The Perfumer's Garden' and the wild themed grassy border in the 'Baroque Garden'.
Creating a layered garden soothes the eye while enhancing other aspects of the garden. Planting a garden in layers considers both vertical and horizontal eye appeal but also the aspect in which we view the area and seasonal interest. Planting a garden in layers will ensure that the highest plants are at the farthest eye point of the garden with medium sized in the middle and the lowest growing at the front.
Repeated patterns, colours, forms and textures throughout a border can create unique patterns in the landscape.
3. Harmonising Hostas
A key trend that was prominent in almost every show garden at this year event was Hostas.
Originating from China and Japan, Hostas are one of the best perennials for shade in the garden, grown in either pots, containers or borders. Renowned for the amazing foliage they produce and have become a common addition for the modern garden designer. Hosta plants are a great perennial plant which is often chosen for their attractive shaped leaves and summer flowers.
Hostas are ideal to add texture and colour to a garden planting scheme. They can be used to complement other plants by adding a contrasting look and style that enhances the overall interest and aesthetic of the scheme. There is a huge choice of varieties available to buy, covering all shapes, colours, and sizes for all tastes.
4. Glorious Grasses
Ornamental grasses made their presence known in many show gardens this year. A range of herbaceous perennials and grasses were featured in 'The Mindful Garden', such as Festuca. The silvery needles of Festuca glauca were featured in the monochrome palette of the 'Every Cloud has a Silver Lining Garden', and long and varied grasses were displayed in the 'Trail of Thoughts Garden' to represent the fading of memory with colourful flowers giving way to a grassier and more muted landscape.
Grasses have long since proved their value in the landscape, moving from what was once considered a craze to one that is a solid cultural shift. As gardens have shifted toward lower maintenance and nature friendly, ornamental grasses have fit every bill that today's gardener demands — while providing the contrast, texture and form that designers crave.
5. Heavenly Hydrangeas
Who can forget the ever-changing blooms of hydrangeas. The use of beautiful fragrant shrubs were used for structure in a variety of the show gardens this year. The once overlooked hydrangeas of the past are now the trend setting plants of today.
With immense flower heads, Hydrangeas flaunt an old-fashioned charm that is hard to resist. Unrivaled in the shrub world for beautiful flowers, they are easy to cultivate, tolerate almost any soil, and produce abundant blooms. Hydrangeas are excellent for a range of garden sites from group plantings to shrub borders to containers.