Posted by Esther Roberts on 11th Jan 2022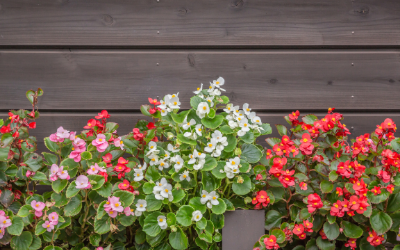 Begonias are a summer garden staple, flowering profusely from June to October. Although they are ideal for growing in pots and containers on the patio, not all Begonias are the same. There are in fact four different types of Begonias - Tuberous, Fibrous, Hardy and Rhizomatous - and each of them can be used to make your garden a summer paradise.
Types of Begonias:
Tuberous: If you like large striking flowers in neon bright colours of yellows, pinks, reds and orange then this type is for you! These flowers are great for value, blooming mid-summer until fall.
Fibrous: Growing smaller flowers in comparison to the other types, some of the main staples of this type are the small, round waxy leaves, standard root ball and thin roots.
Hardy: If you've read this blog then you already know the appeal of this plant, which is grown as a perennial in southern regions.
Rhizomatous: Typically grown for foliage or even as a houseplant, this is the most popular type of Begonia known for its versatility.
Which Begonia is for me?
If you're looking for bright and bold colours, then this Begonia is for you! Our Begonia Glowing Embers is a triple award-winning plant, with a fantastic compact habit. Ideal for baskets and patio containers, this variety grows to roughly 30-40cm and is semi cascading when it flowers from June to September.
Producing some of the largest flowers, the appeal of Begonia Apricot Shades stems from the most gorgeous colour selection that seems to light up when the sun shines, brightening up the shadiest of areas in the garden.
Our garden ready Begonia Super Cascade is a gardeners delight! A favourite among bedding plants, these easy-to-grow and weather resistant beauties are perfect for use in edgings, mass plantings, window boxes and containers.
Given the name 'non-stop' for its vigorous growing habit from February on wards, this sensational Begonia is ideal for pots, bedding, containers and window boxes.