Posted by Shannen Godwin on 17th Jun 2021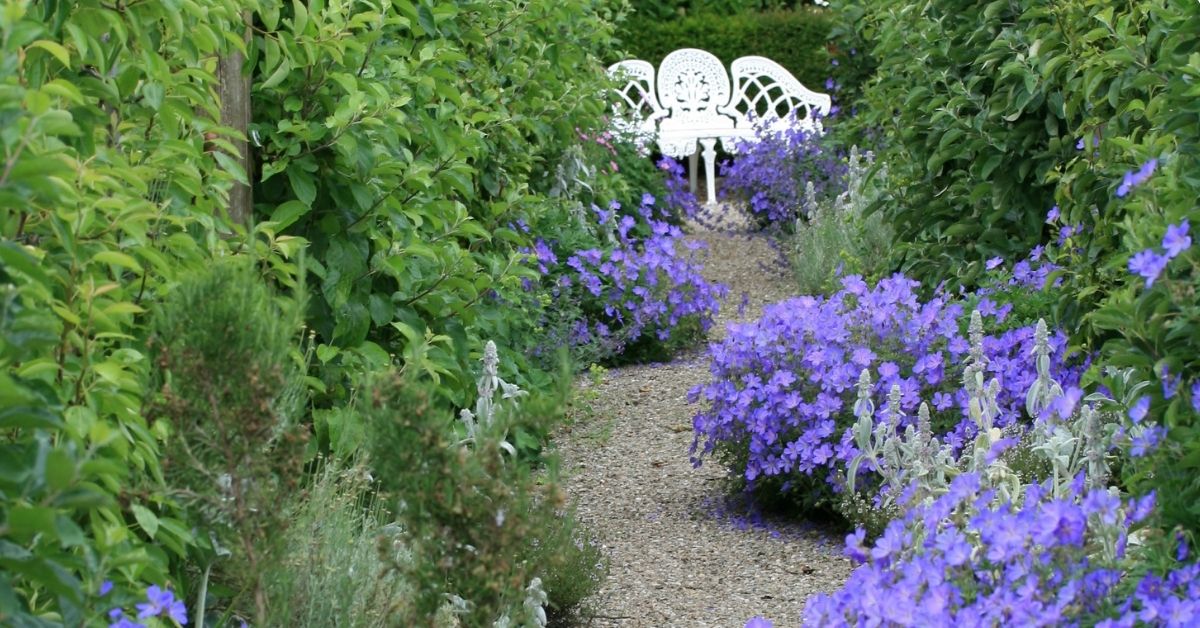 A gravel garden is a great option for a low maintenance garden. It also lends itself to Mediterranean-style drought-tolerant planting so plants like Lavender and Euphorbia are ideal and provide plenty of nectar and pollen for visiting insects.
Beth Chatto's Gravel Garden
One great example is the Beth Chatto Gravel Garden. What was once an old car park is now a famous garden, due to the fact that is has never been watered! Despite being situated in one of the driest parts of the country and with poor, free-draining soil, it has become renowned for its spectacular display of drought-tolerant plants.
Here are our top plant picks for gravel gardens…
Euphorbia
EUPHORBIA BONFIRE
A popular spring perennial. The foliage turns from green/purple to burgundy in summer, then again to a bright fiery red in late summer. In late spring it will produce large vivid yellow flowers. Excellent for edging in rock gardens or in mixed containers.
EUPHORBIA POLYCHROMA
Long lived and incredibly showy, 'Polychroma' produces bright yellow flowers against a backdrop of contrasting dark green foliage. This award-winning shrub's green leafy foliage turns to a red, purple or orange in the autumn providing a long, seasonal interest.
Nepeta
NEPETA FAASENII
With slender spikes of lavender-blue summer flowers and aromatic, sage-green leaves, this dwarf catmint releases an intoxicating aroma when trodden underfoot. Ideal for attracting wildlife and creating a low growing border when planted in rows.
Agapanthus
AGAPANTHUS MIDNIGHT CASCADE
A bold, hardy herbaceous plant. Known as the African lily, this unique, drought tolerant plant produces beautiful pendulous flowers in shades of rich purple throughout summer. An excellent addition to Mediterranean beds and borders. Can also be featured in containers.
AGAPANTHUS MELBOURNE
A stunning bi-colour addition with purple buds that open to reveal white flowers with a lilac purple stripe through each petal. Their vibrant, colourful flowers and shiny green leaves can really spruce up a deck by planting in borders and improve the look of fence lines or garden beds as edging.
Lavender
LAVENDER HIDCOTE
A reliable and popular English Lavender. Their natural bushy habit makes it superb for mass planting within a border or flower bed. Producing an array of sweetly-scented lilac-blue flowers in summer, coupled with evergreen silvery-grey foliage that adds interest throughout the year.
DWARF LAVENDER MUNSTEAD
A beautiful compact and extremely fragrant variety. Producing rosy-purple flowers during the summer months, they can be planted en-masse to produce ground cover/low screening or in lines to create a great border effect. Excellent for rock gardens and herb gardens.
Gaura
GAURA ROSY JANE
A wonderful, free-flowering perennial that will produce bi-coloured blooms in a very pretty-pink and white throughout the summer. It makes the ideal border or pot plant, being clump forming with a neat habit. It is nectar and pollen rich and ideal for attracting bees to the garden.
GAURA WHIRLING BUTTERFLIES
Delicate and incredibly pretty, but tough none the less. This amazing perennial produces beautiful white star-shaped flowers (which resemble the wings of a butterfly) that stand against green foliage. Drought and heat tolerant, this Gaura is perfect for sunny borders and rock gardens.