Posted by Shannen Godwin on 17th Jun 2021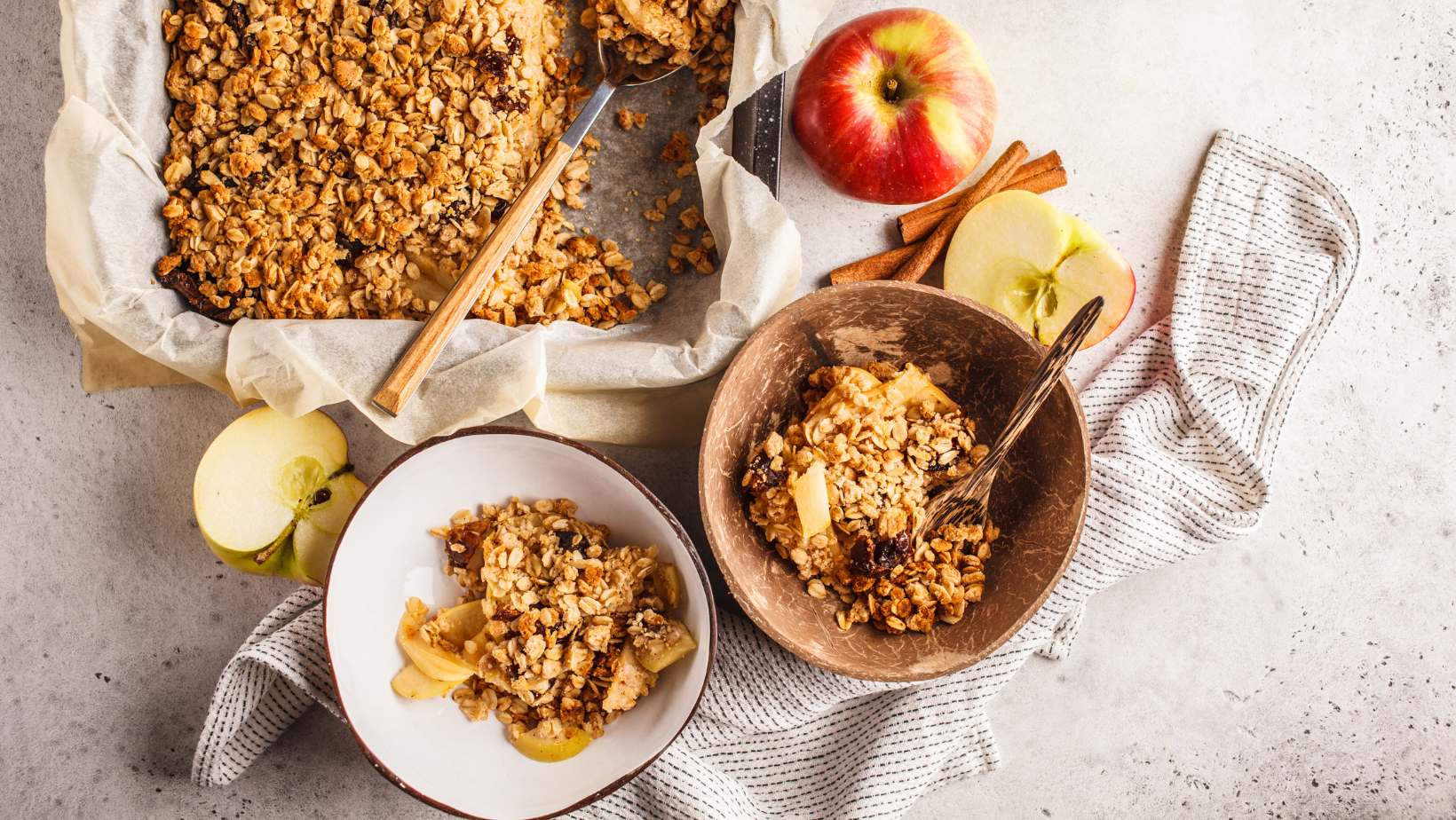 The quintessentially British apple crumble is the way to many of our hearts and is an absolute MUST for the colder autumn months. Now that many of our apple trees have produced lovely, juicy apples, it's time to put them to work!
With that in mind, we brainstormed our favourite apple-centred recipes, and we all agreed; you can't go wrong with the classic crumble.
Perfect for rainy days and family dinners, this apple crumble recipe will have everyone begging for seconds!
Serves: 4
Prep time: 1 Hour
Ingredients
The Filling:
- 3 medium apples (either from your garden or bought). Peeled, cored, and sliced.
- 2 TBSP of Caster Sugar (use 1 TBSP if you'd like it less sweet)
- 1 TBSP of Cinnamon
The Crumble:
- 175g Plain Flower
- 110g Golden Caster Sugar
- 110g butter
The Finish:
- 1 TBSP of Rolled Oats
- 1 TBSP of Demerara Sugar
Cream, custard, or ice cream to serve
Method
1. Heat your oven to 190C/ 170 fan/ gas 5
2. Toss the sliced apples with 2 tbsp of Golden Caster Sugar and 1 tbsp of cinnamon. Transfer the coated apples into a dish that is approx 5cm deep. Press down on the apples so you can barely see the bottom of the dish (we're avoiding big holes for the crumble to fall into).
3. Put your plain flour and the rest of the caster sugar into a bowl and add a pinch of salt.
4. Add your butter to the bowl and combine the ingredients by rubbing them together with your fingertips. Do this until the mixture starts to look like soft breadcrumbs. If you'd prefer, you can put the mixture into a processor until the mixture looks sandy. Make sure you don't over pulse!
5. Pour the mixture over your apples in the baking dish and spread it out so it covers the apples evenly. You can do this with a flat spoon.
6. Get a fork and press the mixture down so the crumble becomes compact and crisp.

7. Sprinkle with your oats and Dermerara sugar.

8. Place your dish into the oven once it has pre-heated and leave in for 34-40 minutes. It should be golden on top and the apples inside should be soft. You can check this with a fork.

Leave to cool and cover with your favourite topping to enjoy!