Posted by Shannen Godwin on 17th Jun 2021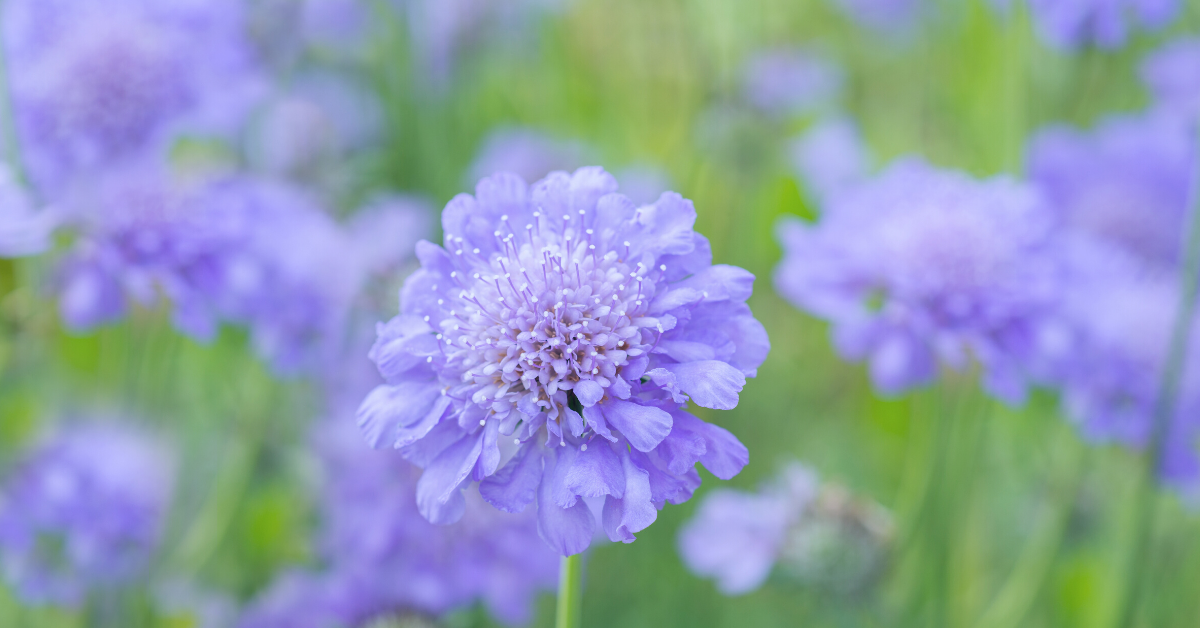 To make a garden– a beautiful garden! You must choose garden colour schemes smartly. On a deeper level, colours can evoke certain emotions in us. Bright colours can make us feel more energetic and vibrant. Cool colours can make us feel calm, content, tired or melancholy and pastel colours can make us feel relaxed, refreshed and peaceful. In a garden space intended for peace, quiet and relaxation, pastels are the perfect garden colour scheme this summer.
Using pastels in the garden can create a space where we can unwind after a hard day and feel refreshed. A pastel garden can be placed almost anywhere in the yard. Pastel coloured flowers look beautiful in bright sunlight, but also stand out in shade gardens and can brighten up especially dark areas.
Blues
Hibiscus Blue Chiffon
This award-winning Hibiscus Syriacus has cool pale blue flowers, arranged like layers of ruffled chiffon. The centres are subtly marked with flashes of star-like burgundy-purple veins. A fabulous deciduous shrub which holds the RHS Award of Garden Merit, its qualities guaranteed. A fine stand- alone specimen, or reliable addition to the shrub border, it will also make a great informal hedge or screen. It is a great choice for attracting butterflies to your garden.
Polemonium viscosum Blue Whirl
This beautiful clump forming Jacob's ladder that produces clusters of small lavender blue flowers on shorter stems with fern like foliage. This compact perennial is perfect for patio pots or rockeries for creating a burst of cool colour.
Iris Sibirica Dear Delight
The Siberian Iris is a hardy perennial Iris which produces graceful flowers from May to July in an unusual tone of powder blue with white shading.
Pinks
Lily Elodie
This pale, baby pink Asiatic Lily is an excellent choice for bedding with very sturdy stems and upright flowers that will add plenty of elegant, pastel colour to your garden in the summer. For a lovely soft pastel display plant alongside creamy pink roses such as Joie de Vivre or our pink and white Dahlia Mix. These can be cut for a delicate and romantic bouquet.
Gladioli Adrenaline
Gladioli Adrenaline are a stunning blend of pale pink and white, they are sure to add glamour to your summer garden. We recommend planting Gladioli in groups at monthly intervals, starting early spring, to extend the flowering season for a showcase that lasts all summer long.
Lavender Rosea
A twist on the traditional lilac evergreen Lavender varieties, Rosea produces beautiful pale pink flower heads as well as the instantly recognizable Lavender fragrance. They are ideal for planting in rows as illustrated or in pots around the patio and garden.
Yellows
Double Hollyhocks Yellow
Hollyhocks, otherwise known as Alcea, are a stable of many gardeners and synonymous with cottage garden displays. This beautiful Double Yellow variety produces stunning flowers in a sunny yellow shade. The flowers are perfect for attracting bees, butterflies and other nectar loving insects into your garden.
Dahlia Boom Boom Yellow
Unique pale-yellow blooms that look amazing in the summer border. These Pompom Dahlias produce fabulous double spherical blooms which are sure to add a new dimension of shape and texture to any garden. Each flower head is made up of layers of silky, inwardly curved petals creating a perfectly formed sphere. Tall sturdy stems not only provide excellent support; but also provide the Dahlia with its iconic bobbing habit in the breeze – an uplifting and calming sight, especially in a hot sunny garden.
Rose Peace
In 1976, Rose Peace was voted the first ever 'world's favourite rose' by the Rose Hall of Fame, and it isn't difficult to see why. This exquisite variety of Hybrid Tea Rose produces elaborate, slightly frilled double blooms of creamy yellow, flushed at the edges with delicate pale pink. The Peace Tea Rose also emits a mild but delightfully sweet fragrance, as with other Hybrid Tea varieties.
Purples
Syringa meyeri Palibin
An upright deciduous shrub which produces dense clusters of sweetly fragrant, light pink and white panicles over attractive heart shaped foliage from late spring into early summer. When in bloom, the gorgeous flowers will bring butterflies to your garden.
Agapanthus Melbourne
A stunning new bi-colour addition to the Agapanthus range, with purple buds that open to reveal white flowers with a lilac purple stripe through each petal. Known as the African lily, these are drought tolerant and like well-drained soil and plenty of sunlight. They flower throughout August and September, boast masses of strappy foliage and tall 1m stems making these the ideal addition to the back of the border.
Petunia Tumbelina Priscilla
Tumbelina Petunia produce large unique double blooms in abundance during the summer months. The numerous flowers and its long trailing habit (up to 60-80cm) make it perfect for hanging baskets. Flowering from June through to October the fragrant flowers can create a wonderful display whether planted on their own or with other trailing varieties or colours. Priscilla is a lilac- purple variety with heavily veined petals.